a Memorable Group Holiday

Escape to the Countryside: chateau retnal in south france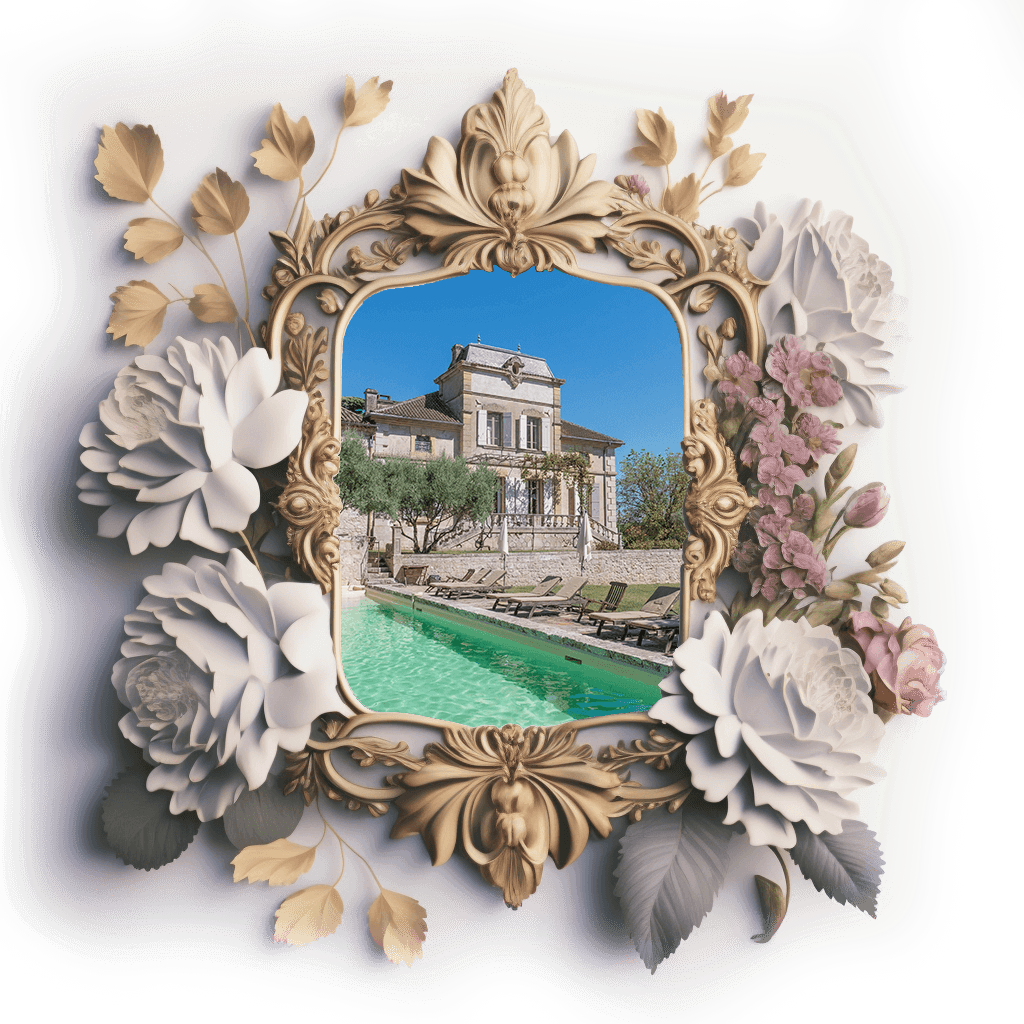 a Memorable Group Holiday

Escape to the Countryside: chateau retnal in south france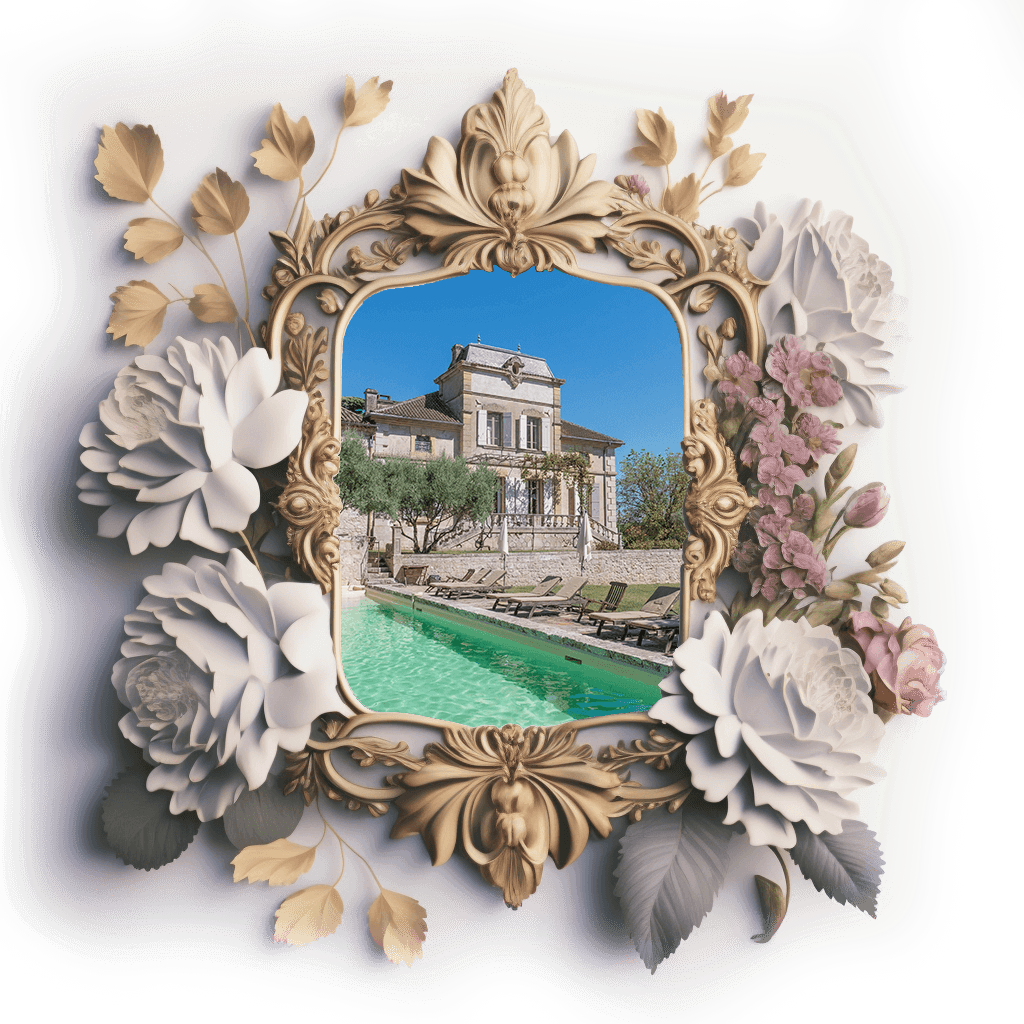 If you're looking for a unique group holiday experience that is filled with stunning landscapes, charming villages, and delightful local cuisine, then look no further than South France! This picturesque countryside destination is the perfect place to escape the hustle and bustle of everyday life and immerse yourself in a serene and relaxing atmosphere while having quality time together with friends or family. With its beautiful rolling hills, idyllic village, and stunning views, Montjoi is an ideal destination for a memorable Castle group holiday. In this blog post, we will guide you through everything to plan the perfect group holiday in the region of Tarn et Garonne, including the best places to go, things to do, and local attractions to visit. So whether you're planning a family reunion or a fun-filled trip with friends, Montjoi is the perfect destination!

1. Local Cuisine and Markets
Local cuisine and dining options are one of the great things about a group holiday in the Tarn-et-Garonne region of France, known for its rich culinary traditions and delicious local produce. You can expect to find an array of authentic French restaurants, bakeries, and markets serving up traditional dishes that are sure to delight the taste buds. One of the authentic dishes in Montjoi is the "Cassoulet", a hearty stew made with white beans, duck confit, and sausage. This dish is a specialty of the region and is not to be missed. Be sure to taste the best Cassoulet in the region; visit Restaurant Le Café Du Siècle only 1 km from Chateau Coty. Other popular dishes in South France include Foie Gras, a type of liver pate that is commonly served on toast, and Tarte Tatin, a delicious apple pie-like dessert. If you are looking for a more casual dining experience, head to one of the local bakeries or markets where you can find freshly baked bread, pastries, and other delicious treats. The markets in Valance 'd Agen, Lauzerte, or Moissac is a great place to find local produce, meats, and cheeses, perfect for a picnic or a home-cooked meal.
If you're looking for an exceptional fine dining experience in France, look no further than the Michel Trama restaurant. This Michelin-starred restaurant is located in the picturesque town of Puymirol, only a 30-minute drive from Chateau Coty. Chef Michel Trama is known for his unique take on traditional French cuisine, with a focus on using only the freshest, highest quality ingredients. From the moment you walk through the door, you'll be struck by the restaurant's elegant and welcoming atmosphere, with its beautifully decorated dining room and attentive staff. Dining at Michel Trama is a once-in-a-lifetime experience that is sure to leave a lasting impression.
Whether you are looking for a fancy night out or a casual bite to eat, there is something for everyone in this region!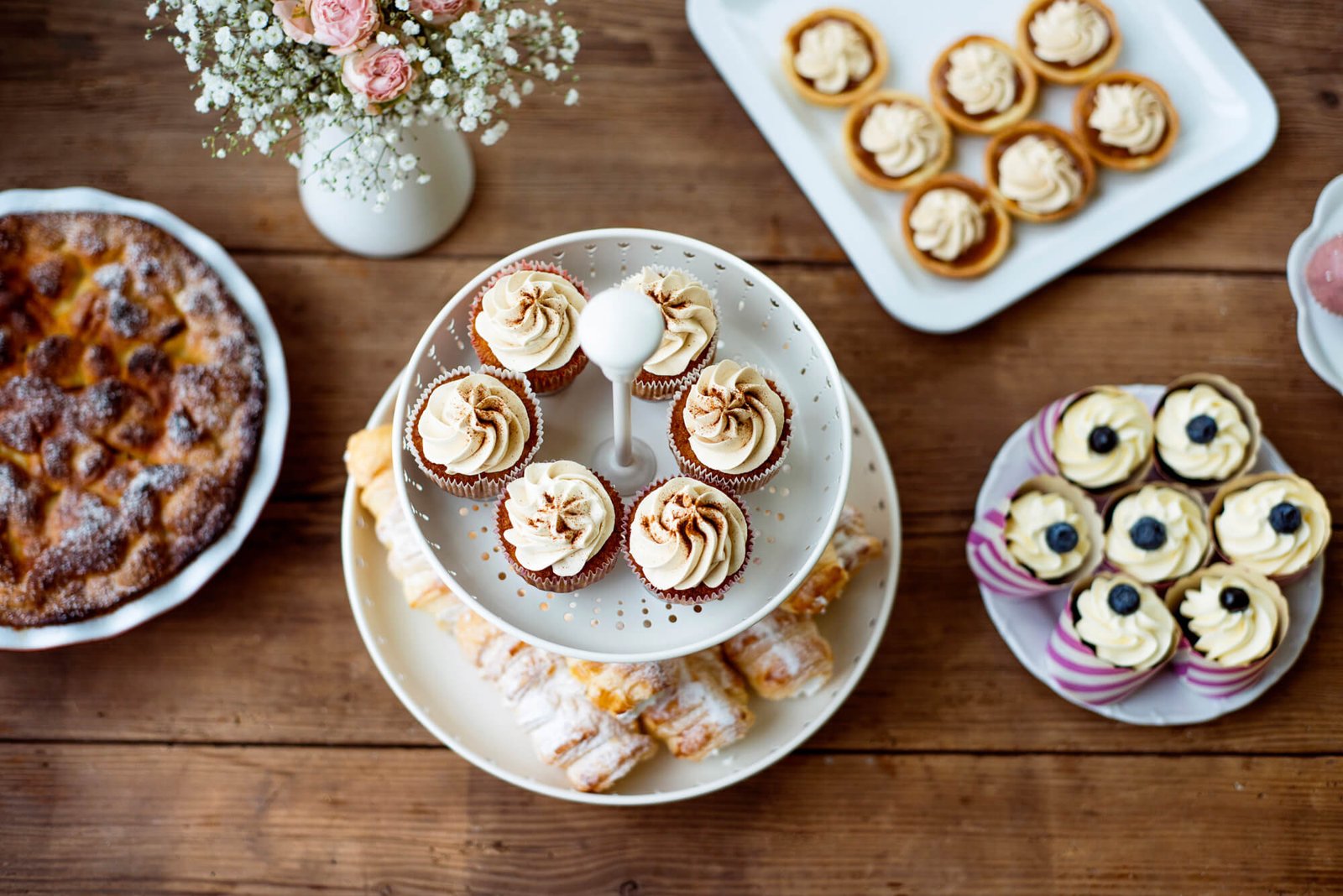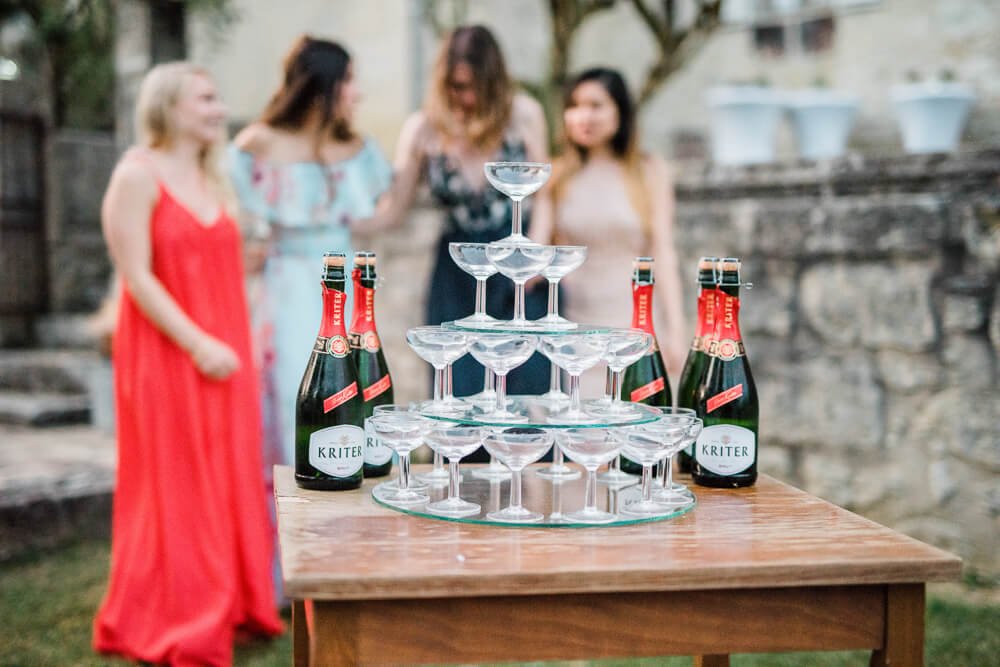 2. Outdoor activities and sports
Horse riding
Tennis, Golf
The easiest way to explore the surrounding area is by walking. A leisurely stroll around the valley and the village is a great way to enjoy the scenic beauty of the region. There are also many hiking trails available for those who want to take their adventure to the next level.
Cycling is another great way to explore the surroundings, with biking routes available for beginners and experienced cyclists. You can rent bikes from a local shop, and have them delivered to the chateau.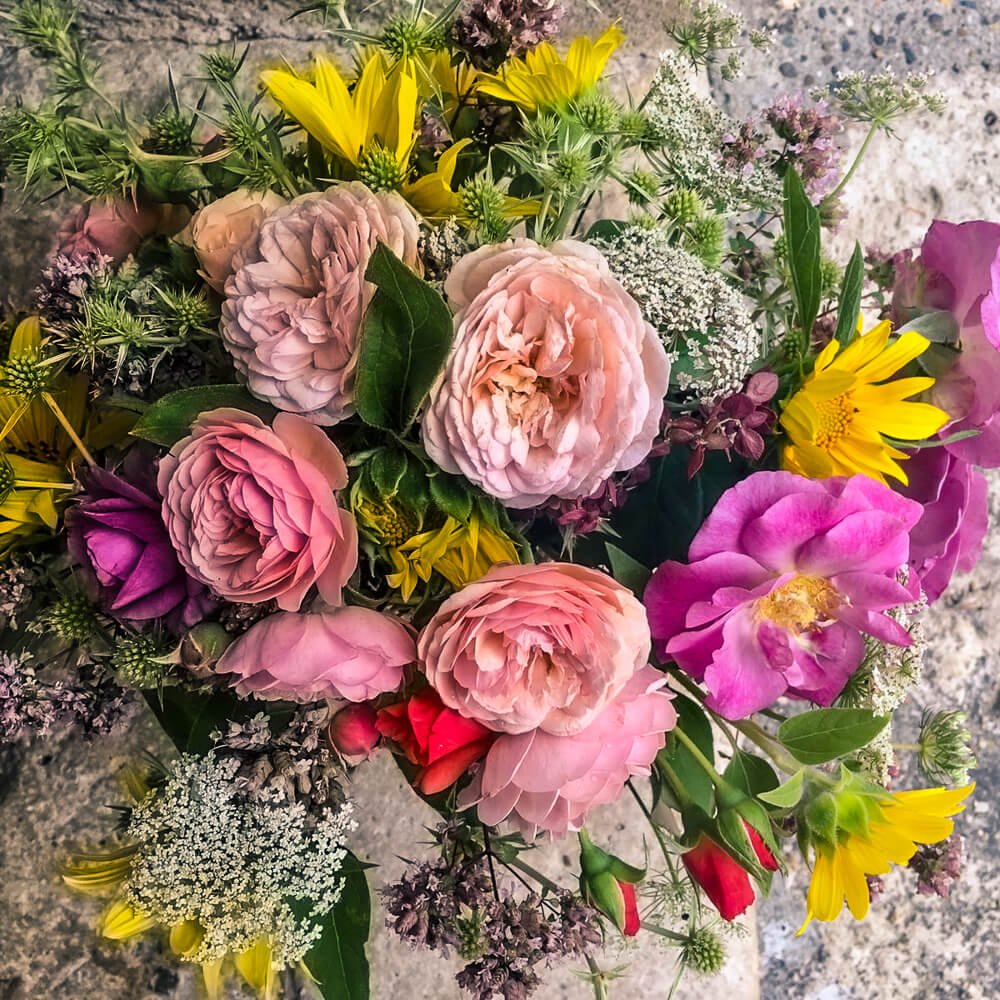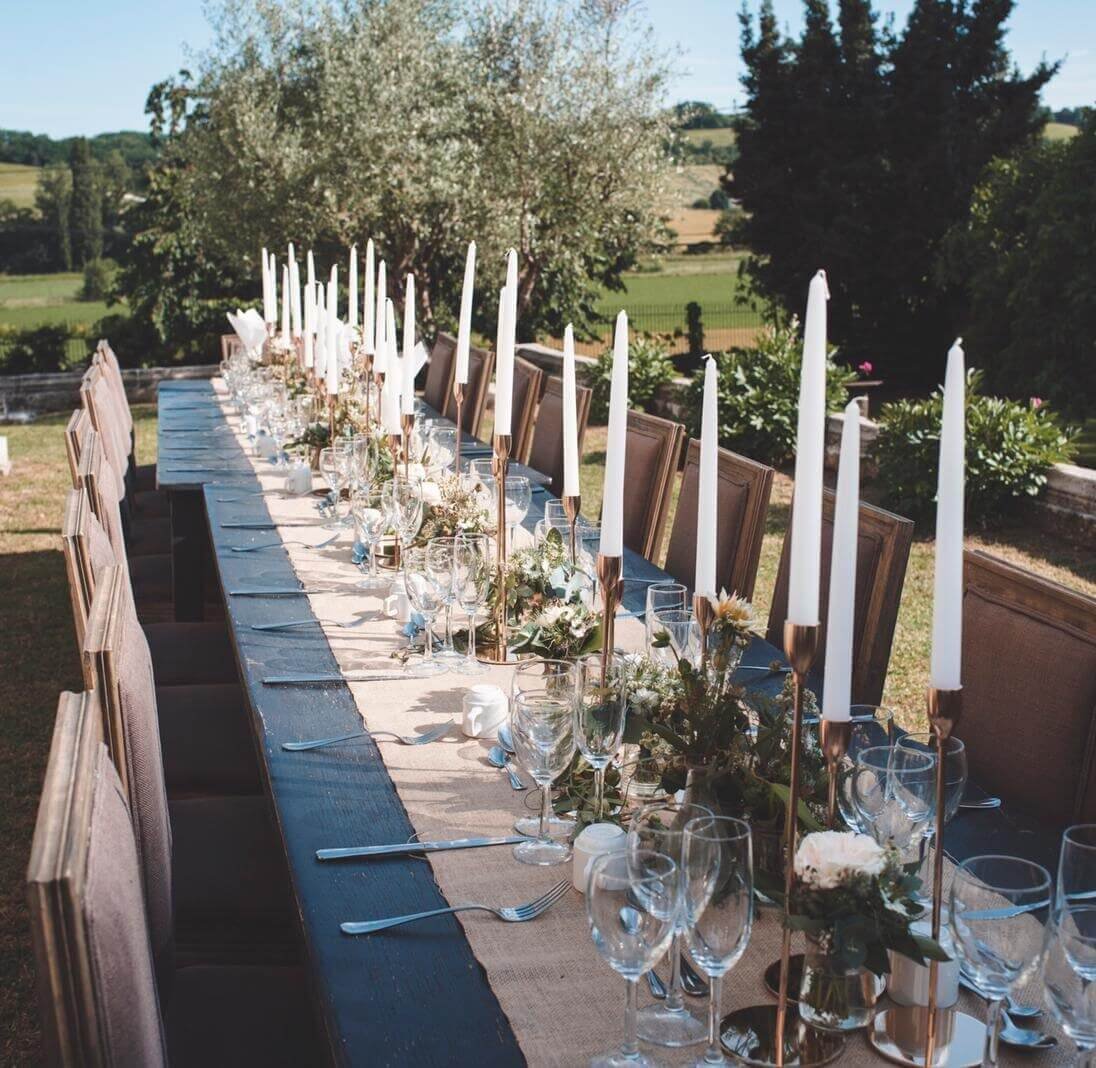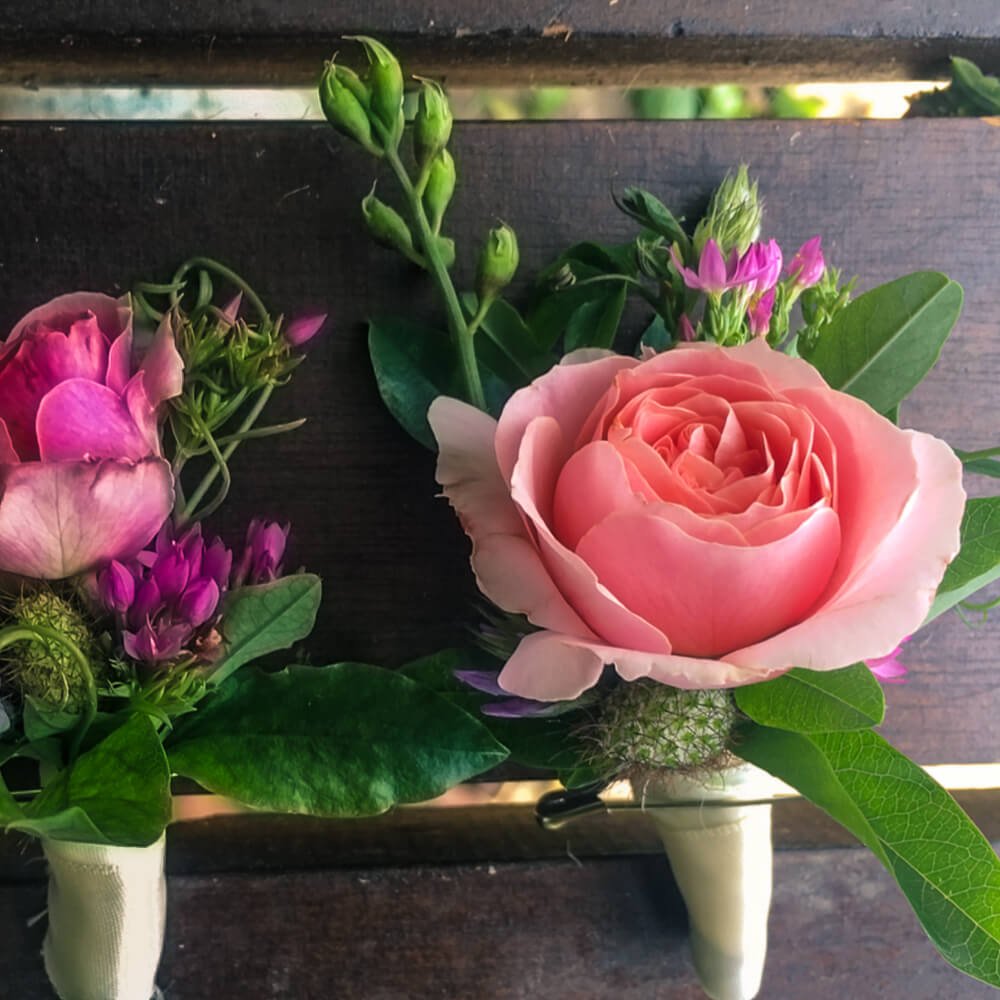 3. Decorations and flowers
When planning a chateau wedding, decorations, and flowers are an essential part of creating that romantic and magical ambiance! You can expect to spend anywhere from a few hundred dollars for the bridal bouquet, wedding corsages and buttonholes, and table decorations. Seasonal flowers can also affect the cost, as some flowers are more expensive during certain times of the year. One way to save money on decorations and flowers is to keep it simple. Highlight the castle's natural beauty and architecture by using minimal decorations, and focus on using flowers that are in season, like Wildflowers from Malin. You can also consider using candles, lanterns, or other lighting elements to create a romantic atmosphere. Another way to save money on decorations and flowers is to DIY. It's recommended to hire a professional florist for the bridal bouquet, and wedding corsages. But making your own bouquets for decorations around the chateau can be a fun and creative way to personalize your wedding and save some money. Overall, it's important to prioritize what's important to you when it comes to decorations and flowers. A castle wedding is already a unique and beautiful experience, and the right decorations and flowers will only enhance that special day.
EXAMPLES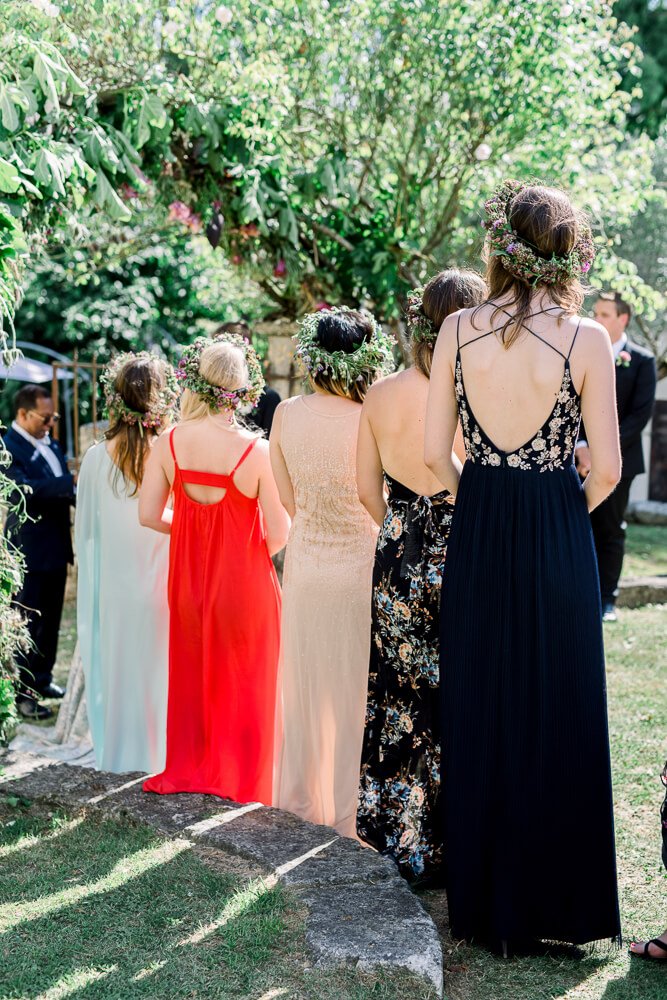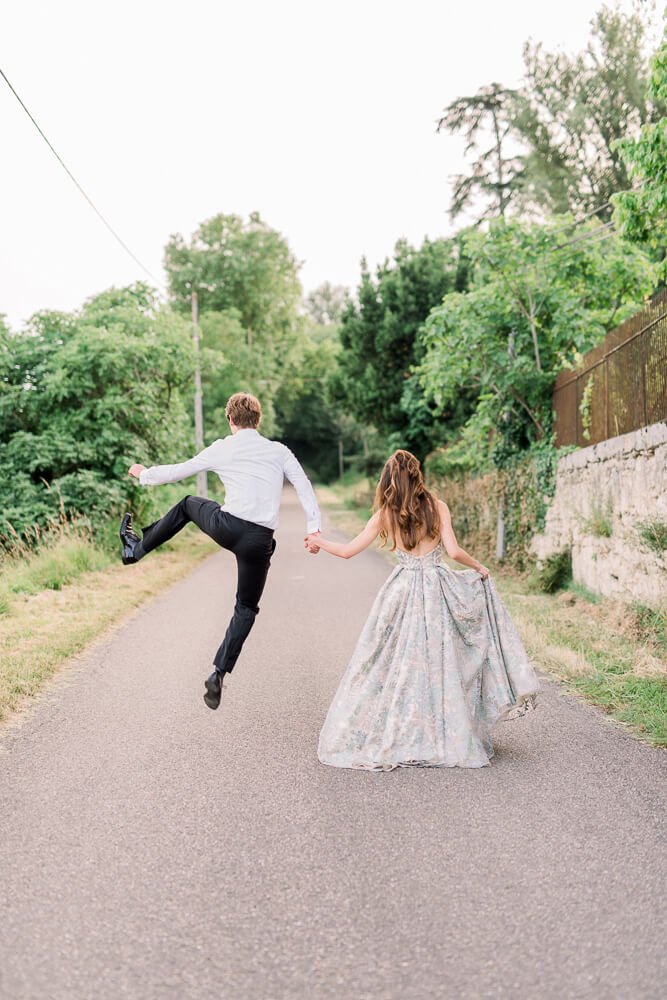 4. Photographer and Videographer
When it comes to a wedding day, there are so many things to consider that it can become overwhelming. One of the most important aspects of the day is capturing the memories that will last a lifetime! Hiring a photographer and videographer for your wedding is crucial, but it can also be expensive. The cost of a photographer will vary depending on the level of experience, the quality of the equipment used, and length of time needed. A professional photographer may charge anywhere from € 1,000 to € 5,000 for a full day's work. As for videographers, they usually charge approximately the same amount. You can also find someone that does both photography and videography together, to potentially save on the costs. Also think about what kind of style of photography you want. The style can be subtle, or greatly accentuated, for example when you go for a vintage look.
When you consider that these professionals are capturing memories that will last a lifetime, it is worth the investment. Remember that the cost of a photographer and videographer will include more than just their time on the day; it will also include editing the photos and videos to ensure that they are of the highest quality.
Recommended Photo- and Videographer for Chateau Coty
Here you can find many more photographers
5. Seating, Tableware and a Marquee
There are many details that need to be taken care of, including setting the tables. It's important to know what the venue provides in terms of tables, chairs, napkins, plates, glasses, and cutlery to avoid any unexpected costs. Most wedding venues provide tables and chairs, but it's important to check how many there are, and if that's sufficient if you have many extra invitees.
Also, consider the visual appeal of the tableware and seating provided by the venue. Is it the style you are looking for, choosing the right items can add a nice touch to your special day.
Secondly, depending on your group size, and the available spaces at the venue, you might want to rent a tent to seat all your guests. In the summer, you'll need protection from the sun, and in the spring and autumn, you want to be sure that rain won't ruin your dinner.
Here you can have a look at a PDF file with the exact amount of chairs and tables, and all the tableware available at Chateau Coty.
Rental of seating and tableware
Renting a marquee costs around € 4000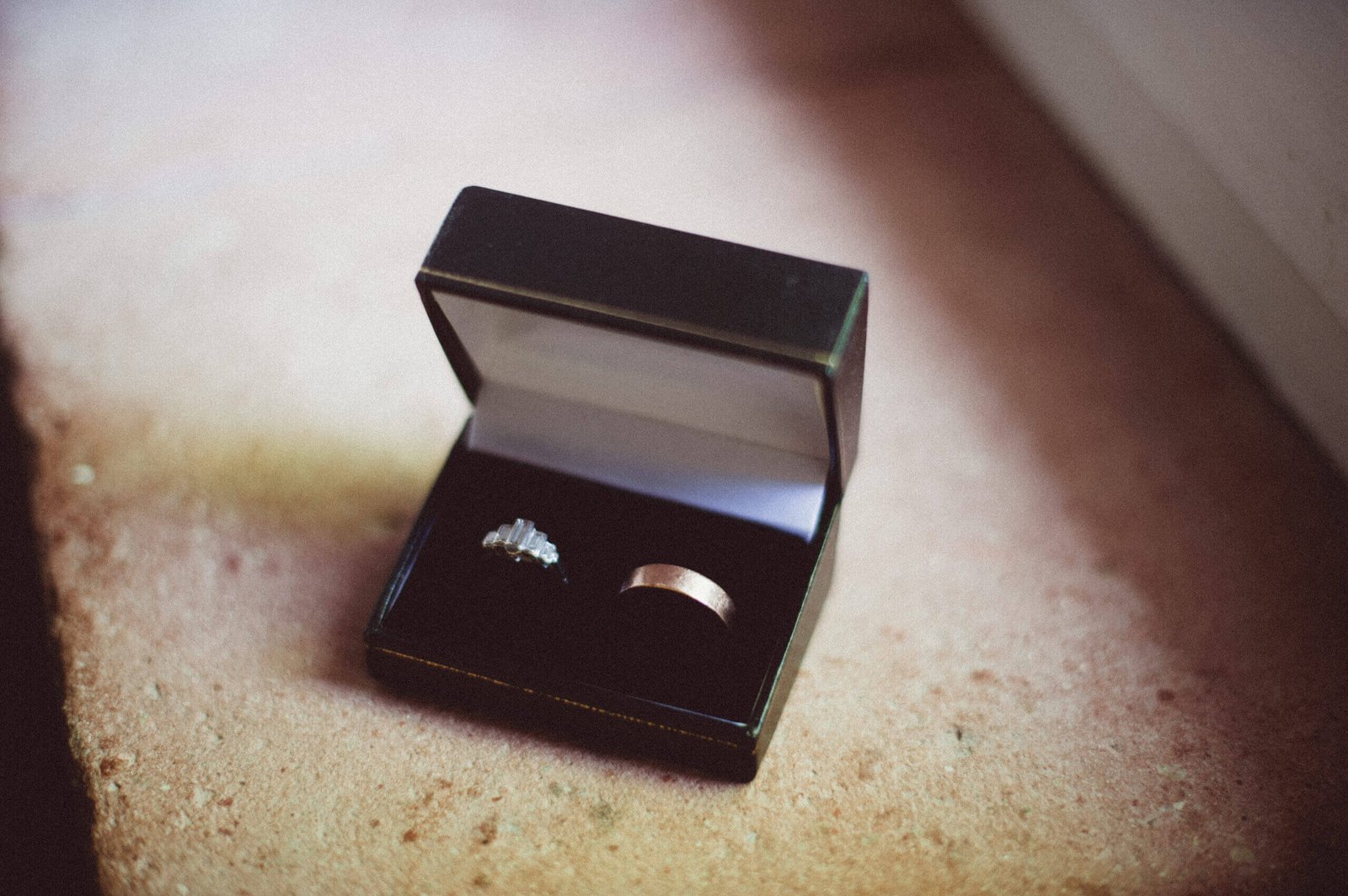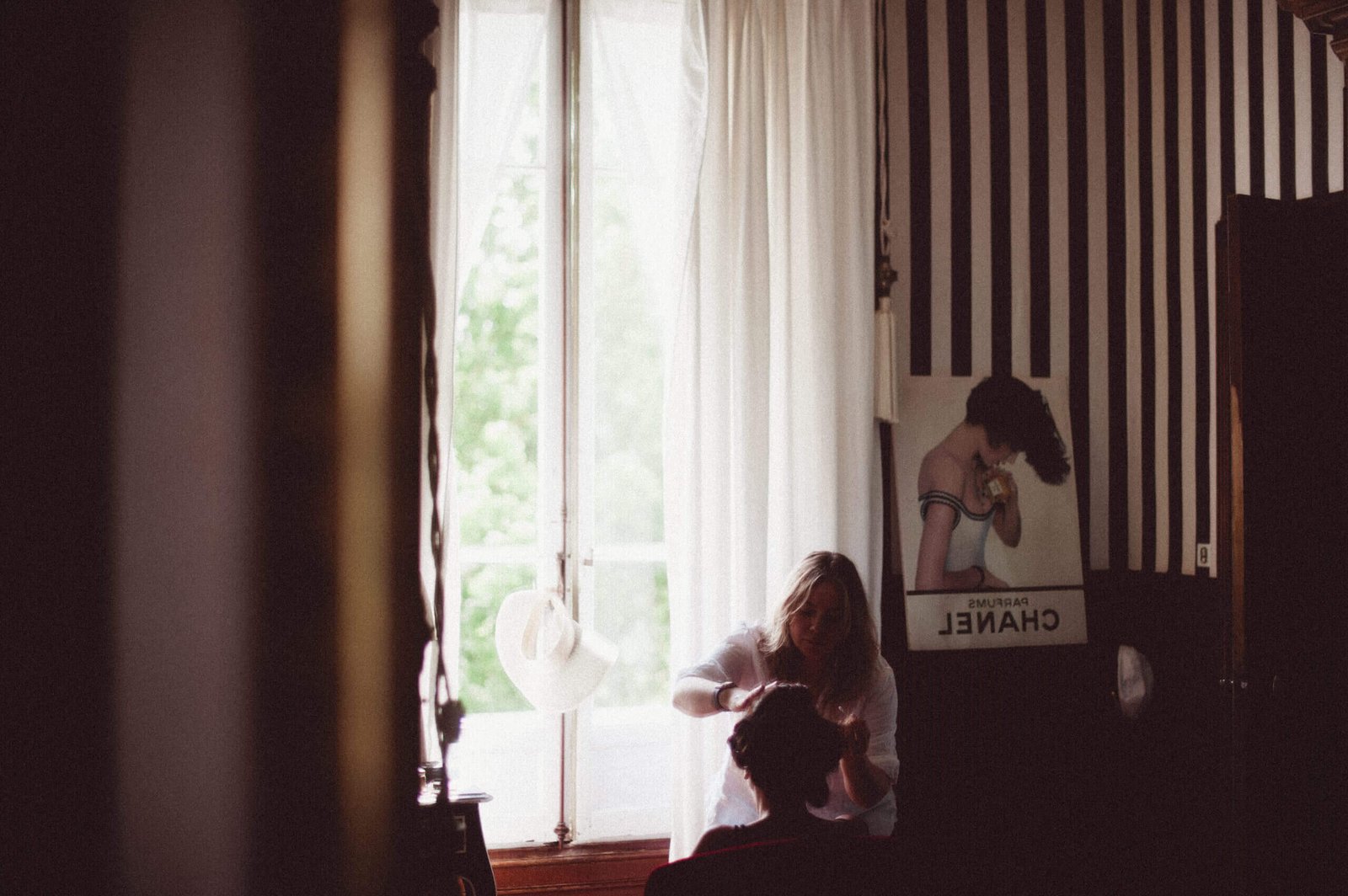 5. Dress, Make-up, and rings
Looking for a wedding dress, groom suit, make up, hair, and rings can be both exciting and overwhelming. When it comes to the wedding dress, it can be helpful to research different styles and designers before heading to a bridal boutique so you have a better idea of what you are looking for. As for the groom suit, you might consider renting instead of buying to save some money. When it comes to make up and hair, do some research and find inspiration photos to show your stylist. It's important to do a trial run before the big day to make sure everything is just the way you want it. Lastly, for the rings, take some time to discuss what you and your partner want and choose something that is meaningful to both of you. Remember that this is a special day for the both of you and to have fun with the process.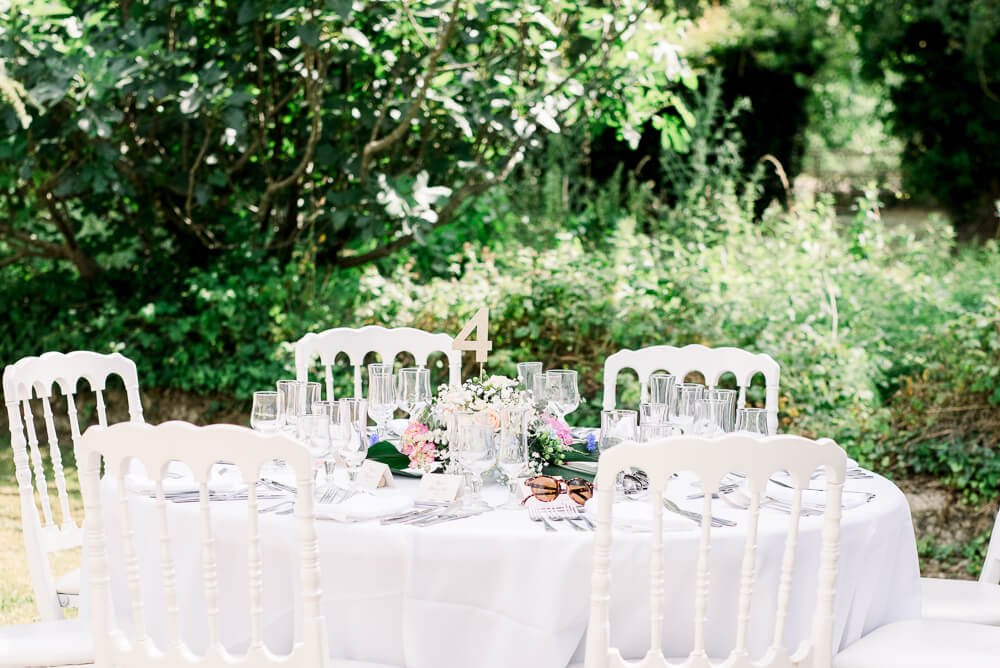 Planning a wedding can be incredibly overwhelming, especially when you're not familiar with the language of the country you're getting married in. Wedding planners offer a range of services, from total organization to partial organization, design services and consultancy. With total organization, you can sit back and relax, while the wedding planner takes care of everything from venue booking, catering, decoration, entertainment, transportation, and more. The costs for total organization start around € 1000. If you want to be more involved, and have the time, or you are already a bit familiar with the French language, partial organization allows you to handle certain aspects of the wedding, while the planner takes care of the rest. Design services ensure that your wedding looks beautiful, that everything if aligned, and is tailored to suit you and your partner's unique style. The consultancy is perfect for couples who just need advice and guidance on how to plan a wedding in France, this is available starting only at a few hundred euros. Whatever your needs are, a wedding planner can help you create the wedding of your dreams without the added stress of planning it all yourself.
Wedding Planner recommendations: Louise Ham, Clémentine Ward, and many more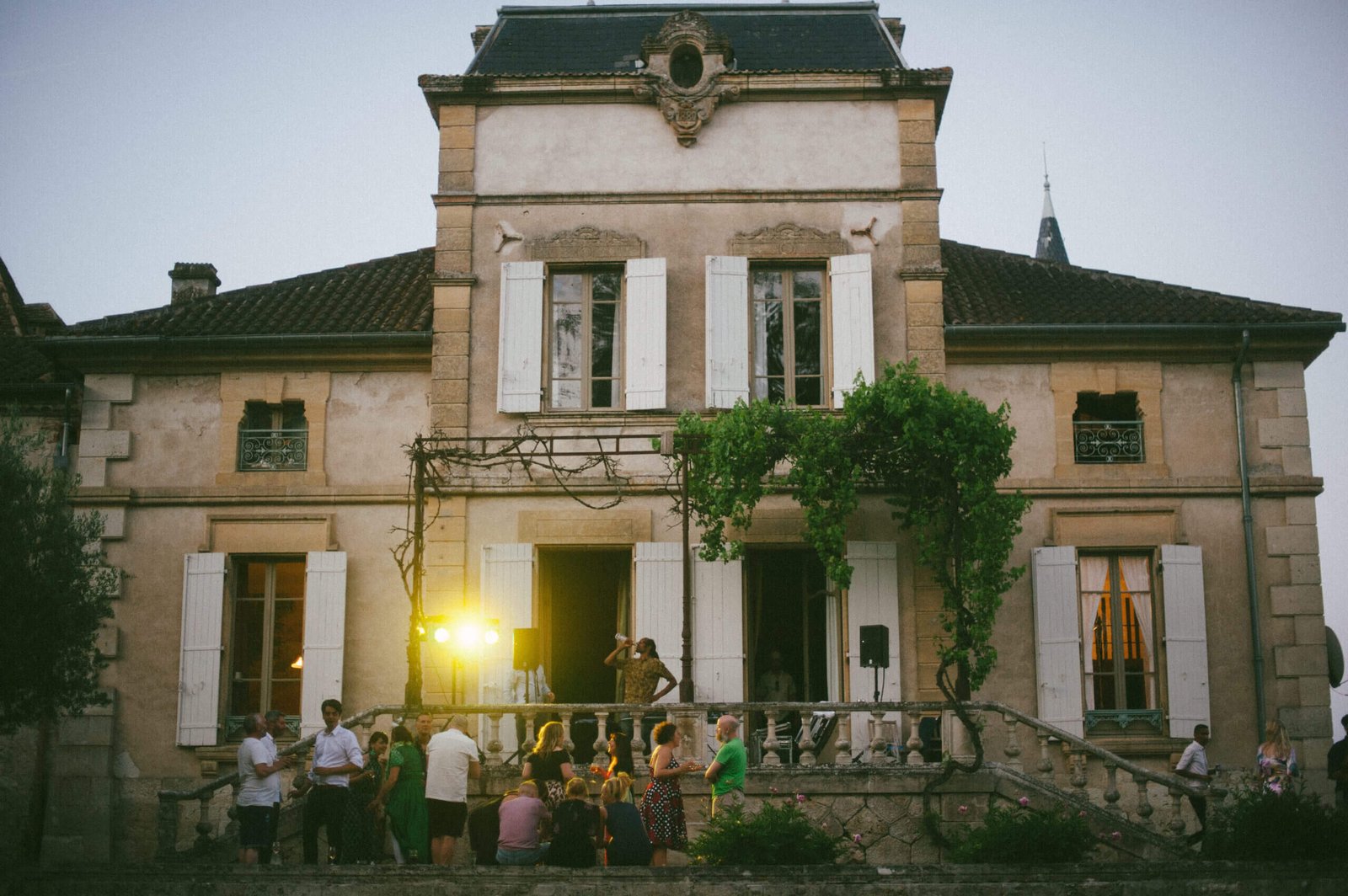 Renting a DJ, band, sound, and lights for a wedding party can be a great way to ensure that you and your guests will have an unforgettable time, and take your event to the next level. Hiring a DJ can be a cost-effective option, as they will often bring their own equipment and have a wide range of music to choose from. Hiring a DJ starts around five hundred euros, including the sound and lights, count around three hundred more.
A band can provide a very specific and personal touch to your wedding, with their live performance and unique sound. Do you prefer a party band, or jazz music during the cocktail? To hire live music, it starts around a thousand euros, and can easily go up to two, or three thousand euros.
When it comes to sound and lighting, it's important to make sure that the equipment is of high quality and fits the size of your venue. A professional sound and lighting company can provide the perfect setup to create the right atmosphere for your special day. It's important to plan ahead and make sure that all the details are worked out in advance so that everything runs smoothly on the day of your wedding.
Links for: Dj's, Bands, and Sound Equipment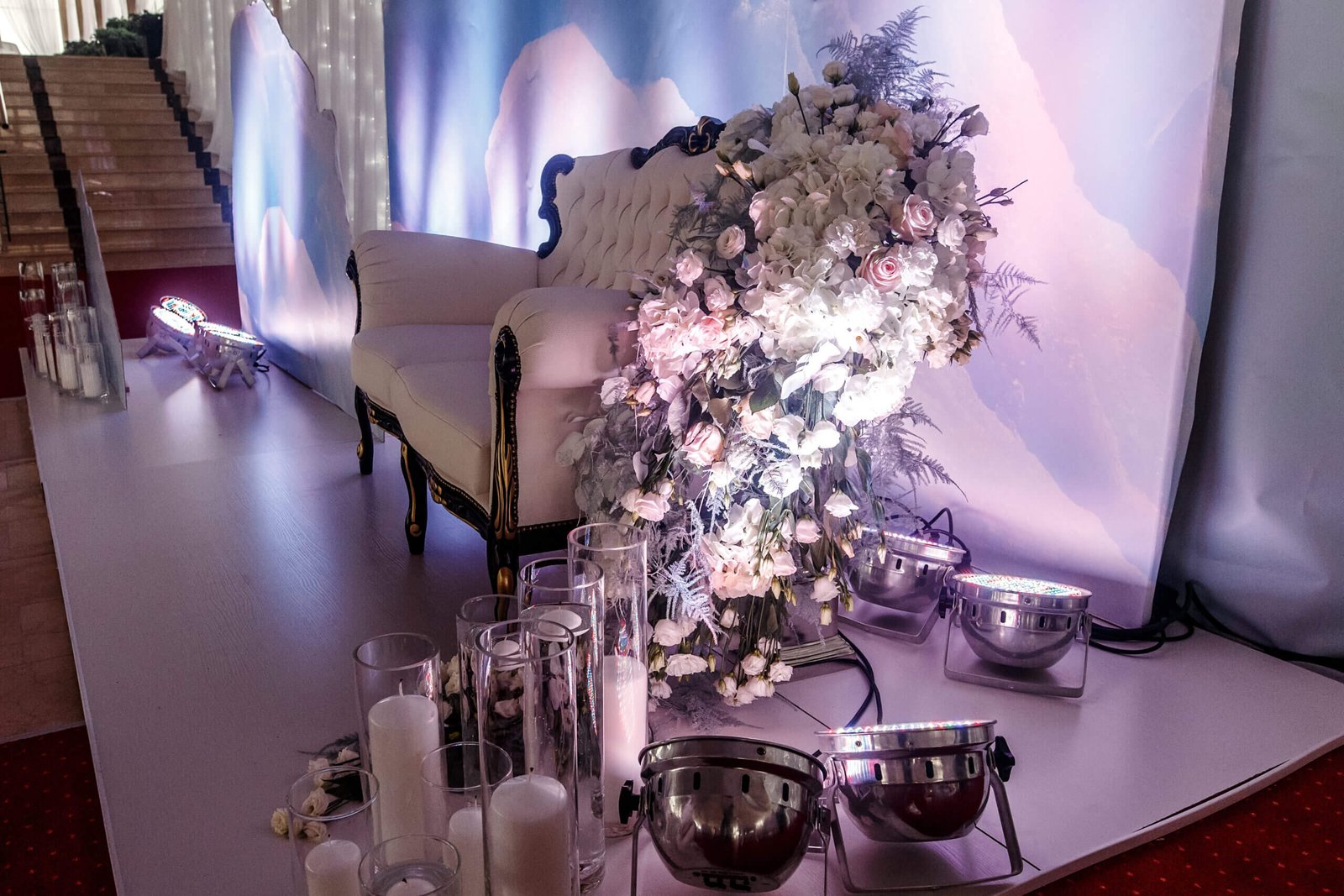 Wedding parties can also be the perfect occasion to let loose and have some fun. One of the most popular ideas for a wedding party is to have a themed dress code. This could be anything from 1920s Gatsby style to a beach party theme. Another great idea is to have a photo booth where guests can take fun photos and leave a message for the bride and groom. You could even have some props like oversized sunglasses, feather boas, or silly hats to make it even more fun.
If you're looking for something more active, consider organizing a scavenger hunt throughout the wedding venue or having a dance-off competition. You could even hire a professional instructor to teach a dance routine to the wedding party and perform it for the guests. No matter what you choose, the most important thing is to make sure everyone has a good time and creates unforgettable memories.
In conclusion, a castle wedding can be a magical experience that will be remembered for the rest of your life. As with any wedding, it's important to consider the costs involved. However, it's important to remember that this is a once-in-a-lifetime event and it's worth investing in to make it truly special. With careful planning and budgeting, you can have the castle wedding of your dreams while still staying within your means. If you want to plan your wedding at Chateau Coty, with a small, and intimate group of for example 20 people, it's possible to have your dream wedding starting at € 12.000.